Regular price
Sale price
₱1,700.00
Unit price
per
Sale
Sold out
Delight in the essence of summer and bask in the radiance of our Summer Mint bouquet, a stunning amalgamation of nature's finest blooms. Bursting with color, fragrance, and heartfelt sentiments, this enchanting arrangement is perfect for every occasion that calls for a touch of natural beauty.
At the heart of the Summer Mint bouquet, three resplendent sunflowers take center stage, their golden petals unfurling like a glorious sunrise, spreading warmth and positivity in their wake. Symbolizing happiness, joy, and resilience, these sun-kissed blooms are a reminder to embrace life's simple pleasures and find solace in the beauty that surrounds us. Each sunflower exudes its unique charisma, radiating a vibrant energy that illuminates any room and uplifts the spirits of all who behold them.
To complement the sunflowers' brilliance, we have carefully selected sprigs of fresh eucalyptus, adding an element of invigorating allure to the bouquet. The aroma of eucalyptus dances through the air, infusing the surroundings with its refreshing and soothing fragrance. Known for its calming properties, eucalyptus creates a tranquil ambiance, inviting relaxation and rejuvenation with every breath. Its verdant foliage provides a verdant backdrop, enhancing the bouquet's visual appeal and creating a harmonious composition of colors and textures.
The Summer Mint bouquet is more than just a gift; it's a sensory experience that engages multiple senses. As you hold the bouquet, the soft, velvety petals of the sunflowers beckon you to run your fingertips over their delicate contours, evoking a sense of tactile pleasure. The eucalyptus leaves release their invigorating scent, enticing you to inhale deeply and immerse yourself in nature's embrace. Each component of the bouquet has been thoughtfully chosen to create a symphony of sensations, making it a truly immersive and memorable gift.
Imagine presenting the Summer Mint bouquet to your loved ones, their faces instantly lighting up with joy as they lay eyes upon this resplendent creation. The vibrant yellow hues of the sunflowers, juxtaposed against the deep green eucalyptus leaves, create a striking visual tableau that captivates the senses. Their happiness and gratitude will overflow as they appreciate the thoughtfulness behind this heartfelt gesture, knowing that you have selected a gift that perfectly encapsulates the essence of summer's splendor.
Whether it's a birthday, anniversary, celebration, or a simple gesture of appreciation, the Summer Mint bouquet is a testament to the beauty of nature and the power of flowers to convey emotions. It serves as a beacon of hope, reminding us to cherish life's fleeting moments and find solace in the simplest of pleasures. Each bloom and leaf in the bouquet tells a story of resilience, growth, and the enduring power of nature's creations.
So, go ahead and indulge in the captivating charm of our Summer Mint bouquet. Let its vibrant colors, fragrant aromas, and symbolic significance create an unforgettable experience for your loved ones. Order this radiant ensemble today and immerse yourself in the beauty of sunflowers and eucalyptus, knowing that you have chosen a gift that will leave a lasting impression and fill hearts with joy, warmth, and gratitude.
3 Sunflowers
Eucalyptus
Share
View full details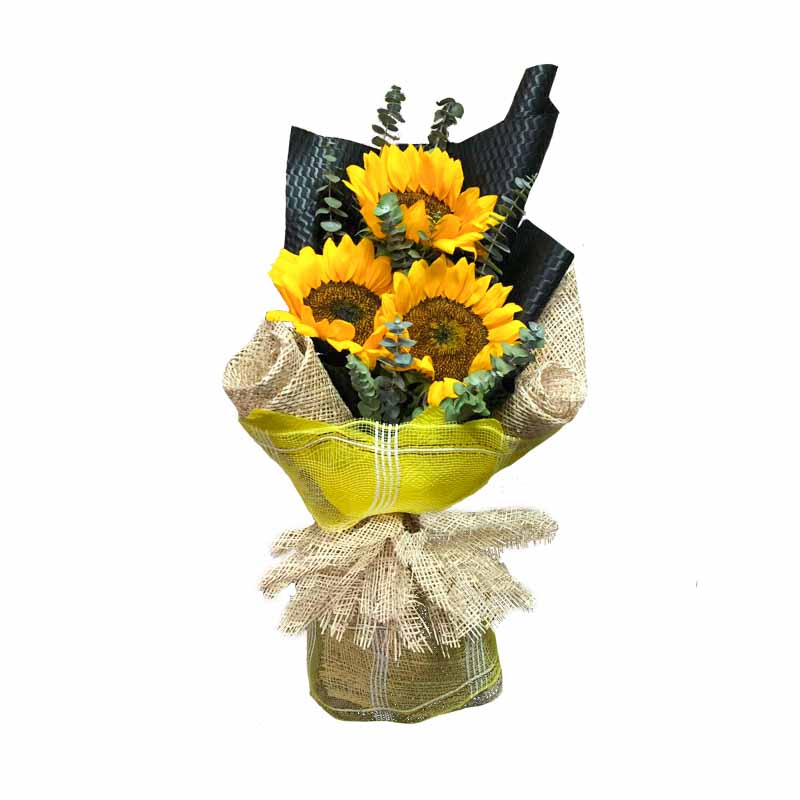 Collapsible content
Do you offer same-day delivery for gifts and bouquets?

Yes, we certainly do! To ensure same-day delivery, please place your order before our 3 PM cut-off time.
What is the price range for your flower bouquets?

Our flower bouquets start at ₱999 and may vary depending on the specific design and package you choose.
Do you offer same-day flower delivery in Metro Manila?

Yes, we provide same-day flower delivery services for orders placed within our specified cut-off time in Metro Manila. Please refer to our delivery policy for details.
Is delivery free of charge within Metro Manila?

Yes, delivery is free for all orders within Metro Manila, including the following cities: Manila, Quezon City, Caloocan, Las Piñas, Makati, Malabon, Mandaluyong, Marikina, Muntinlupa, Navotas, Parañaque, Pasay, Pasig, Pateros, San Juan, Taguig, Valenzuela.
Do you deliver outside Metro Manila?

Yes, we do deliver outside Metro Manila to locations such as Pampanga, Bulacan, Rizal, Laguna, Cavite, and Tagaytay. However, we do require an additional charge for these locations, which is calculated based on delivery courier charges and distance.
Do you offer optional add-ons for flowers?

Absolutely! You have the option to enhance your bouquet by adding chocolates, cakes, message balloons, and plushies to make your gift even more special.
Can I specify a preferred delivery time for my order in Metro Manila?

While we provide delivery time slots, exact delivery times in Metro Manila cannot always be guaranteed due to factors like traffic and route optimization. We will make every effort to accommodate your preferred time.
What happens if the recipient is not available at the delivery address?

If the recipient is not available, we will make an attempt to contact them or leave the flowers in a secure location, as per your instructions. We will also notify you of the delivery status.
Can I include a personalized message with my flower delivery?

Absolutely, you can include a personalized message when placing your order. We offer a card or message option during the checkout process.
What types of flowers and gifts are available for delivery?

We offer a wide variety of flowers, including roses, sunflowers, tulips, Ecuadorian roses, stargazers, gerbera daisies, carnations, peonies, stargazer lilies, and gypsophila baby's breath. Additionally, we provide chocolates, cakes, and other gift items.
What types of flower arrangements do you offer?

We offer a diverse range of flower arrangements, including bouquets, boxed arrangements, basket arrangements, vase arrangements, columbary arrangements, inaugural arrangements, sympathy arrangements, wreaths, urn arrangements, and customized arrangements.
Do you provide flower delivery for special occasions like weddings, birthdays, anniversaries, and funerals?

Yes, we offer specialized flower arrangements for various occasions, including wedding flowers, birthday packages, anniversary bouquets, and sympathy arrangements.
Can I schedule a flower delivery for a future date?

Certainly, you can schedule your flower delivery as early as one month in advance. Simply select from our available delivery slots to secure your preferred date.
What payment options are available for flower delivery?

We provide multiple payment options, including bank transfers, e-wallet transfers, credit cards, PayPal, and Cash on Delivery (COD), to offer you flexibility and convenience when placing your order.