Regular price
Sale price
₱3,500.00
Unit price
per
Sale
Sold out
Elevate your spring celebrations with our exquisite fresh bouquet of tulips, a must-have for embracing the vibrant beauty of the season. Delight in the perfection and elegance of this stunning arrangement, which serves as the ideal gift for any occasion, be it a birthday, anniversary, graduation, or simply to brighten someone's day with a gesture of kindness.
Crafted with meticulous precision and care, our enchanting tulip bouquet effortlessly captures the essence of love, kindness, and warmth. Each bloom is hand-selected to ensure optimal freshness and beauty, guaranteeing a memorable experience for both the recipient and the sender.
Immerse yourself in a visual symphony of colors as you explore the intricacies of this captivating bouquet. The five delicate pink tulips symbolize harmony, evoking a sense of serenity and balance. Their gentle hues create a soothing ambiance that calms the spirit and fosters a sense of unity. Complementing the pink tulips are the vibrant orange tulips, numbering five as well. These vibrant blooms exude sheer happiness, infusing the surroundings with their radiant energy and uplifting the mood of any space they grace.
Embrace the meaningful symbolism and depth of emotions conveyed by this remarkable bouquet. It serves as a heartfelt expression of love, appreciation, and joy. With every glance at these blooms, your recipient will be reminded of the genuine care and affection that you hold for them.
Celebrate life's milestones and special moments with the perfect gift of five pink tulips and five orange tulips. Each blossom holds its own significance, representing the harmonious blend of tranquility and happiness. Share in the joy of bringing nature's vibrant tapestry into your loved one's life, allowing the timeless beauty of tulips to illuminate their world.
As you present this meticulously arranged bouquet, prepare to witness the transformative power of flowers. Allow the vibrant colors, delicate petals, and intoxicating fragrance to create a sensory experience that transcends words. It is a gift that not only captivates the eyes but also touches the heart and stirs the soul.
Order now to experience the sheer delight of gifting this mesmerizing bouquet. Let the radiance of the pink and orange tulips ignite a symphony of emotions, enveloping your loved ones in an atmosphere of love, kindness, and happiness. Cherish the opportunity to express your sentiments with the unparalleled beauty and grace of our tulip bouquet, ensuring that every occasion is filled with joy and cherished memories that last a lifetime.
5 Pink Tulips
5 Orange Tulips
Eucalyptus
Rosal Fillers
Share
View full details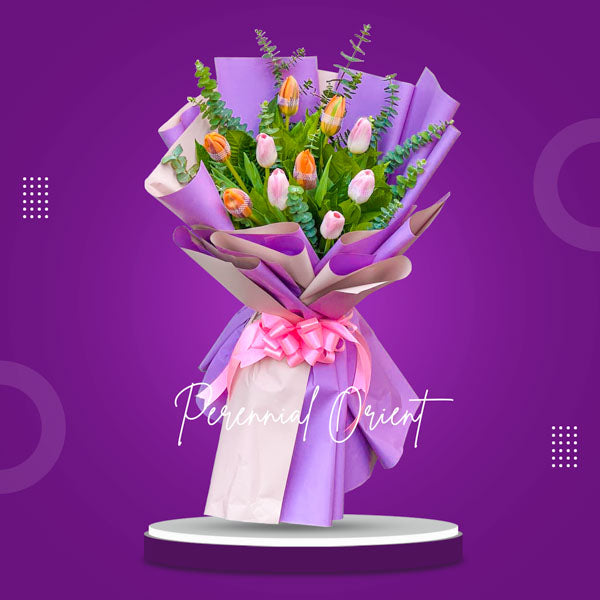 Collapsible content
Do you offer same-day delivery for gifts and bouquets?

Yes, we certainly do! To ensure same-day delivery, please place your order before our 3 PM cut-off time.
What is the price range for your flower bouquets?

Our flower bouquets start at ₱999 and may vary depending on the specific design and package you choose.
Do you offer same-day flower delivery in Metro Manila?

Yes, we provide same-day flower delivery services for orders placed within our specified cut-off time in Metro Manila. Please refer to our delivery policy for details.
Is delivery free of charge within Metro Manila?

Yes, delivery is free for all orders within Metro Manila, including the following cities: Manila, Quezon City, Caloocan, Las Piñas, Makati, Malabon, Mandaluyong, Marikina, Muntinlupa, Navotas, Parañaque, Pasay, Pasig, Pateros, San Juan, Taguig, Valenzuela.
Do you deliver outside Metro Manila?

Yes, we do deliver outside Metro Manila to locations such as Pampanga, Bulacan, Rizal, Laguna, Cavite, and Tagaytay. However, we do require an additional charge for these locations, which is calculated based on delivery courier charges and distance.
Do you offer optional add-ons for flowers?

Absolutely! You have the option to enhance your bouquet by adding chocolates, cakes, message balloons, and plushies to make your gift even more special.
Can I specify a preferred delivery time for my order in Metro Manila?

While we provide delivery time slots, exact delivery times in Metro Manila cannot always be guaranteed due to factors like traffic and route optimization. We will make every effort to accommodate your preferred time.
What happens if the recipient is not available at the delivery address?

If the recipient is not available, we will make an attempt to contact them or leave the flowers in a secure location, as per your instructions. We will also notify you of the delivery status.
Can I include a personalized message with my flower delivery?

Absolutely, you can include a personalized message when placing your order. We offer a card or message option during the checkout process.
What types of flowers and gifts are available for delivery?

We offer a wide variety of flowers, including roses, sunflowers, tulips, Ecuadorian roses, stargazers, gerbera daisies, carnations, peonies, stargazer lilies, and gypsophila baby's breath. Additionally, we provide chocolates, cakes, and other gift items.
What types of flower arrangements do you offer?

We offer a diverse range of flower arrangements, including bouquets, boxed arrangements, basket arrangements, vase arrangements, columbary arrangements, inaugural arrangements, sympathy arrangements, wreaths, urn arrangements, and customized arrangements.
Do you provide flower delivery for special occasions like weddings, birthdays, anniversaries, and funerals?

Yes, we offer specialized flower arrangements for various occasions, including wedding flowers, birthday packages, anniversary bouquets, and sympathy arrangements.
Can I schedule a flower delivery for a future date?

Certainly, you can schedule your flower delivery as early as one month in advance. Simply select from our available delivery slots to secure your preferred date.
What payment options are available for flower delivery?

We provide multiple payment options, including bank transfers, e-wallet transfers, credit cards, PayPal, and Cash on Delivery (COD), to offer you flexibility and convenience when placing your order.