Regular price
Sale price
₱5,000.00
Unit price
per
Sale
Sold out
Experience the tender embrace of solace and compassion with the remarkable "Teddy Small Stand" Funeral and Sympathy Flowers. This exquisite arrangement serves as a poignant tribute, enveloping your grieving hearts in a gentle embrace of support and understanding. With its captivating display of white Malaysian mums and delicate red roses and misty blue accents, this stand encapsulates the essence of love, remembrance, and eternal peace.
At the heart of the "Teddy Small Stand" lies the pristine beauty of white Malaysian mums, each blossom meticulously chosen for its flawless petals and graceful allure. Symbolizing purity, innocence, and serenity, these exquisite flowers embody the essence of hope and provide solace during moments of profound loss. Their delicate petals, arranged with utmost care, create an aura of tranquility and serve as a visual representation of the enduring love shared with the departed.
Complementing the Malaysian mums are delicate accents thoughtfully selected to enhance the stand's visual impact. Soft green foliage gracefully weaves around the base, symbolizing growth, resilience, and the eternal cycle of life. This subtle touch adds depth and texture to the arrangement, creating a harmonious blend of nature's finest elements.
The "Teddy Small Stand" stands as a beacon of unity and compassion, offering solace and support to grieving families and loved ones. Its presence becomes a focal point during funeral services, memorial gatherings, or as a heartfelt tribute displayed in the home. Its timeless elegance and thoughtful symbolism serve as a reminder that even in moments of sorrow, there is strength, love, and the power of shared memories.
Crafted with unwavering dedication by our team of skilled floral artisans, the "Teddy Small Stand" is a testament to our commitment to honoring life and preserving cherished memories. Every stem is carefully placed, ensuring that the arrangement exudes a sense of grace and serenity that resonates with your deepest emotions.
Beyond its aesthetic beauty, the "Teddy Small Stand" conveys a profound message of support and empathy. It becomes a visual representation of the collective love and shared memories, offering a sense of comfort to those in mourning. In the presence of this stand, grief finds solace, and hearts find healing.
As you navigate the difficult journey of bidding farewell to a loved one, let the "Teddy Small Stand" Funeral and Sympathy Flowers serve as a source of strength, unity, and solace. Its timeless elegance and compassionate symbolism will embrace you, reminding you that even in the darkest moments, love endures, and cherished memories live on.
Choose the "Teddy Small Stand" as a heartfelt expression of remembrance and support, honoring the life of your loved one with a tribute that speaks volumes without uttering a single word. May its ethereal beauty and profound symbolism bring comfort, peace, and healing to all who encounter its tender embrace.
Malaysian mums
Share
View full details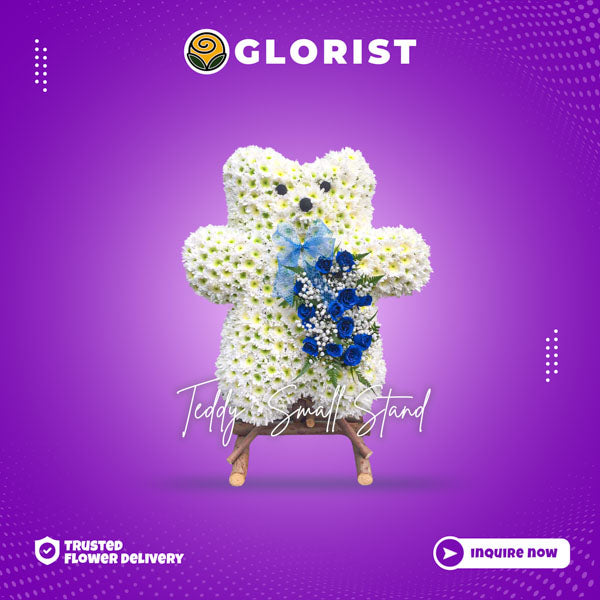 Collapsible content
Do you offer same-day delivery for gifts and bouquets?

Yes, we certainly do! To ensure same-day delivery, please place your order before our 3 PM cut-off time.
What is the price range for your flower bouquets?

Our flower bouquets start at ₱999 and may vary depending on the specific design and package you choose.
Do you offer same-day flower delivery in Metro Manila?

Yes, we provide same-day flower delivery services for orders placed within our specified cut-off time in Metro Manila. Please refer to our delivery policy for details.
Is delivery free of charge within Metro Manila?

Yes, delivery is free for all orders within Metro Manila, including the following cities: Manila, Quezon City, Caloocan, Las Piñas, Makati, Malabon, Mandaluyong, Marikina, Muntinlupa, Navotas, Parañaque, Pasay, Pasig, Pateros, San Juan, Taguig, Valenzuela.
Do you deliver outside Metro Manila?

Yes, we do deliver outside Metro Manila to locations such as Pampanga, Bulacan, Rizal, Laguna, Cavite, and Tagaytay. However, we do require an additional charge for these locations, which is calculated based on delivery courier charges and distance.
Do you offer optional add-ons for flowers?

Absolutely! You have the option to enhance your bouquet by adding chocolates, cakes, message balloons, and plushies to make your gift even more special.
Can I specify a preferred delivery time for my order in Metro Manila?

While we provide delivery time slots, exact delivery times in Metro Manila cannot always be guaranteed due to factors like traffic and route optimization. We will make every effort to accommodate your preferred time.
What happens if the recipient is not available at the delivery address?

If the recipient is not available, we will make an attempt to contact them or leave the flowers in a secure location, as per your instructions. We will also notify you of the delivery status.
Can I include a personalized message with my flower delivery?

Absolutely, you can include a personalized message when placing your order. We offer a card or message option during the checkout process.
What types of flowers and gifts are available for delivery?

We offer a wide variety of flowers, including roses, sunflowers, tulips, Ecuadorian roses, stargazers, gerbera daisies, carnations, peonies, stargazer lilies, and gypsophila baby's breath. Additionally, we provide chocolates, cakes, and other gift items.
What types of flower arrangements do you offer?

We offer a diverse range of flower arrangements, including bouquets, boxed arrangements, basket arrangements, vase arrangements, columbary arrangements, inaugural arrangements, sympathy arrangements, wreaths, urn arrangements, and customized arrangements.
Do you provide flower delivery for special occasions like weddings, birthdays, anniversaries, and funerals?

Yes, we offer specialized flower arrangements for various occasions, including wedding flowers, birthday packages, anniversary bouquets, and sympathy arrangements.
Can I schedule a flower delivery for a future date?

Certainly, you can schedule your flower delivery as early as one month in advance. Simply select from our available delivery slots to secure your preferred date.
What payment options are available for flower delivery?

We provide multiple payment options, including bank transfers, e-wallet transfers, credit cards, PayPal, and Cash on Delivery (COD), to offer you flexibility and convenience when placing your order.